"Uh Oh he's hording food" "Oh the poop and scoops gonna be terrible"
-Josh Redgrove -Parker Dinkleman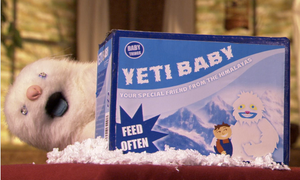 This baby yeti came in a package and was Parker's pet in the episode "My Eddie". When Parker adopted him, he kept him in the meat freezer. But, Eddie grew overnight and became a giant. Parker decides to make him an employee to impress Wink and Mr. Carney. But, they didn't fall for Parker's trick and decided to cook Eddie and eat him. But, Josh convinced them otherwise. When Eddie started crying and shedding, Parker had to send him back to the Himalayas.
"Well looks like it's time for an abominable barbecue"
- Edward R. Carney
"I know what's going on. You boys didn't sell any meat. That damn tundercow gone ate it all"
-Edward R. Carney
Eddie made a cameo appearance at the Begining of "Big Greasy Musical."
Ad blocker interference detected!
Wikia is a free-to-use site that makes money from advertising. We have a modified experience for viewers using ad blockers

Wikia is not accessible if you've made further modifications. Remove the custom ad blocker rule(s) and the page will load as expected.